Wellness Retreats & Events
Recharge your battery, re-energize your body, and clear your mind.
Upcoming Wellness Retreats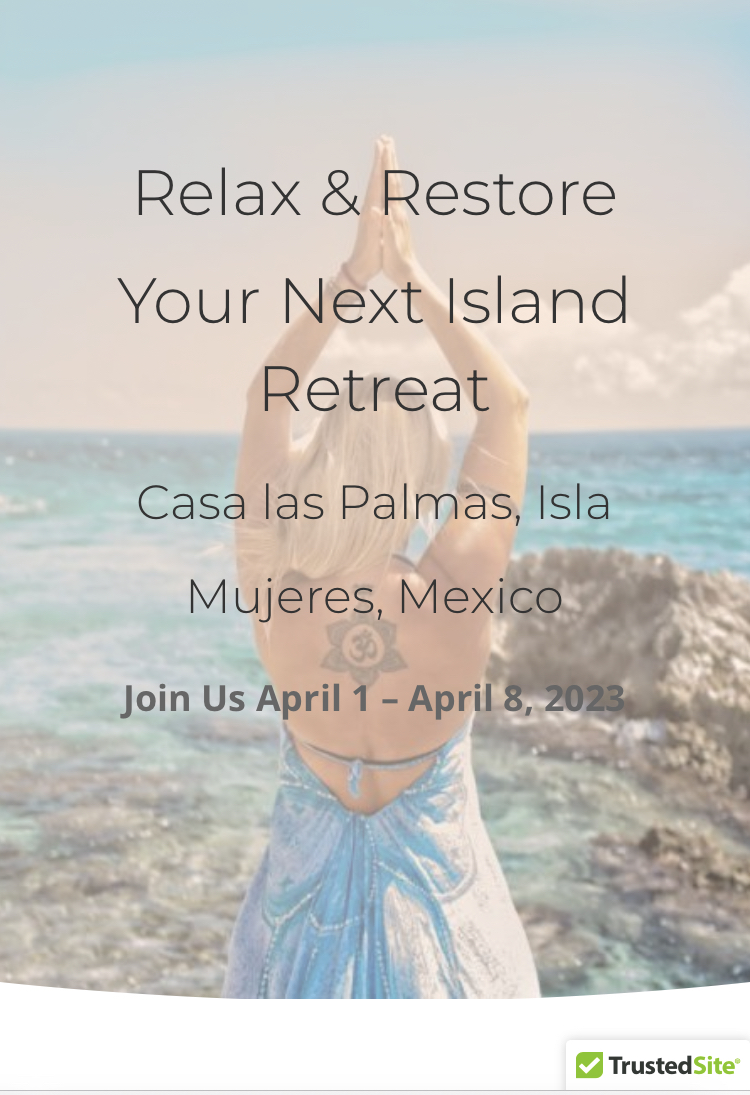 Retreat to Playa de Secreto, Mexico – March 1-8, 2023
Where: Playa del Secreto – The Secret Beach
Located less than 30 minutes from Cancun airport, but a million miles from the chaos of the city. We have rented a 10 bedroom house that is situated right on the beach. We have a private pool, lots of hammocks, a private beach, and an incredible rooftop!
What's Included:
7 nights lodging, all meals, daily yoga classes, food and nutrition talks, taxes, and tips. Also expect lots of sun, sand, laughter, and friendship.
Not included: airfare, ground transfers, alcohol, and any excursions that we decide to do,
About the food:
We are SO very lucky to have the most amazing cook join us to prepare all of the meals. Lucia DiCesare is a holistic nutritionist who lives on Isla Mujeres. She sources nearly all of our food from local farms. You will not leave here hungry!
Sign me up!
Reserve your room with a $400 deposit. Final payment is due by December 15th. Deposit is refundable before October 1st. After October 1st, deposit will be refunded IF the room gets filled. Prices listed below each available room are per person. Email Lara.parkin@yahoo.com to reserve your room and request payment information.
Create your own retreat!
I have some great locations on Isla Mujeres, MX for your wellness retreat.  You choose the group size and I will take it from there!
I will find the perfect accommodations that will be ideal for your retreat and within your set budget.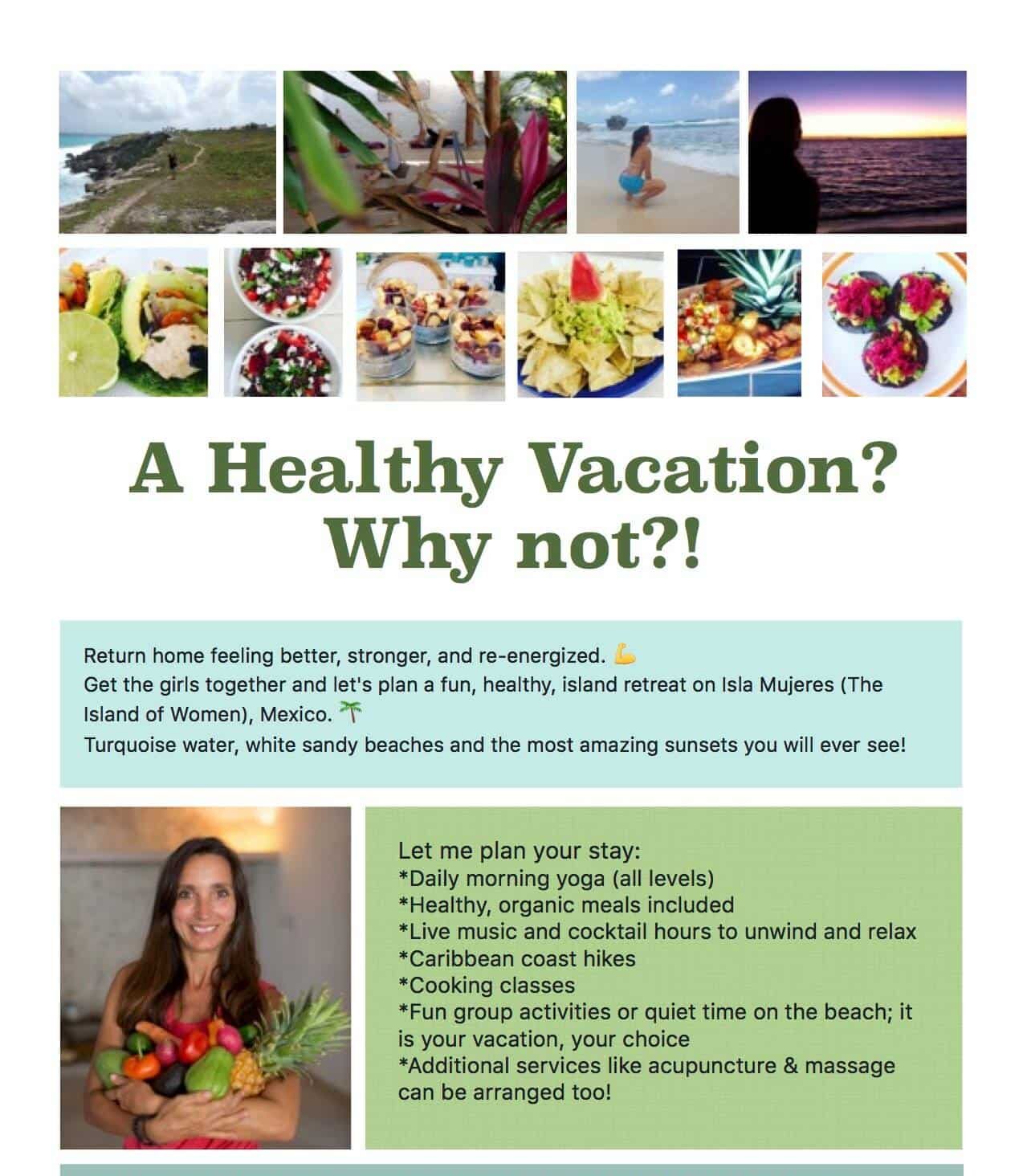 What's included?
Choose from…
Healthy, organic meals
Massage
Fitness and/or yoga classes
Free time to enjoy the beach
Cooking classes
Information sessions
Island Tour
Airport transfer
Snorkelling trip
Retreats We Have Already Experienced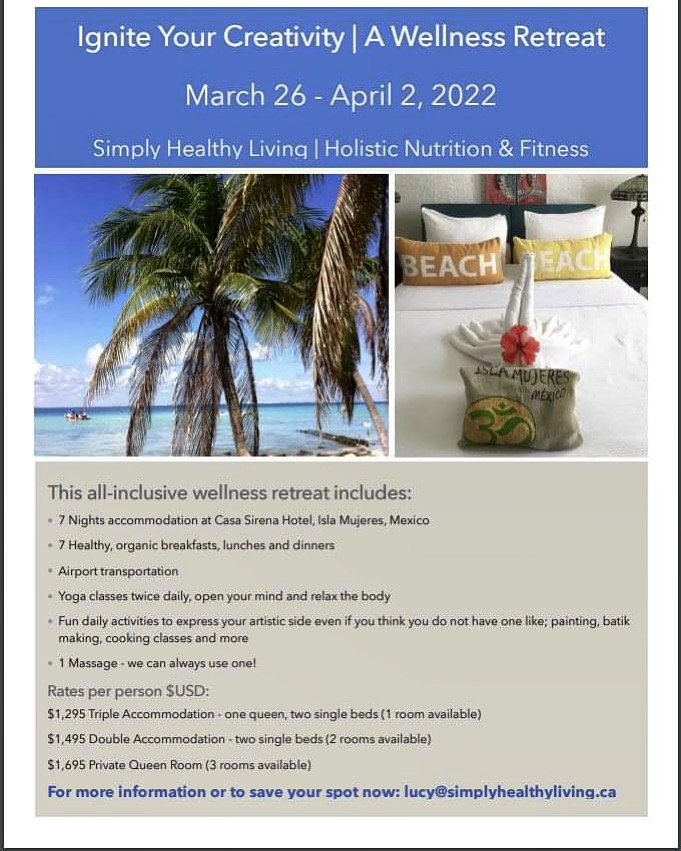 Healthy Caribbean Holiday
Dates: April 11-15, 2019
Casa Sirena Hotel, Isla Mujeres, Mexico
You're strong. You're Beautiful. You're Stressed.
Time to press reset.
Give yourself some love!
Join us on the quaint, 7km island of Isla Mujeres, Mexico, just a short ferry ride away from Cancun.  
Together we will embark on an amazing journey that will leave you feeling recharged, re-energized, more vibrant and healthy!  
We will work together on setting goals to rebalance our adrenals, tune up the digestive system, and increase energy.
*No diets allowed, only delicious, nutritious food*
Are you ready?  
Progreso, Mexico
March 2019
Join Lara and holistic nutritionist Lucia DiCesare for an eco-retreat to the Gulf Coast fishing town of Progreso, Mexico.  Progresso is a quaint village on the Northern Coast of the Yucatan Peninsula.  Relax in a private 8 bedroom house on the beach, complete with private pool and yoga palapa.  Excursions include an eco-trip through the San Cristano mangroves, a visit to Mayan ruins, a full day in Merida, and evening out in Progreso. 
Included in the trip:
*7 nights lodging
*Most meals daily provided by Lucia
*Yoga and meditation daily
*Excursions to San Cristano, Merida, and Progreso
*Ground transport to/from Merida airport
​Get helpful tips, motivational challenges, easy recipes and more, right to your inbox!​